Hardly a week goes by without some aspect of the UK's housing crisis making headline news. However the problems in housing the UK's population remain seemingly intractable, with successive governments claiming they have some sort of plan or strategy to resolve the problem(s) but never actually achieving any substantial improvement.
Unfortunately, the housing crisis is made up of a range of elements, which while connected, require significantly different policy approaches to lessen their impact.
Why are house prices so unaffordable?
One of the key measures of the housing crisis is the affordability of houses – most easily measured in the multiple of average workers' pay.
In 1983 and for much of the preceding decades, the average house cost around three times the average salary in the UK. However in the late 90s, prices started to rise relative to wages. By 2003 the average house cost nearly six times the average wage, then for the next 20 years, prices continued to rise. With the figure today now being closer to nine times the average wage, it's no wonder that many are struggling to afford houses.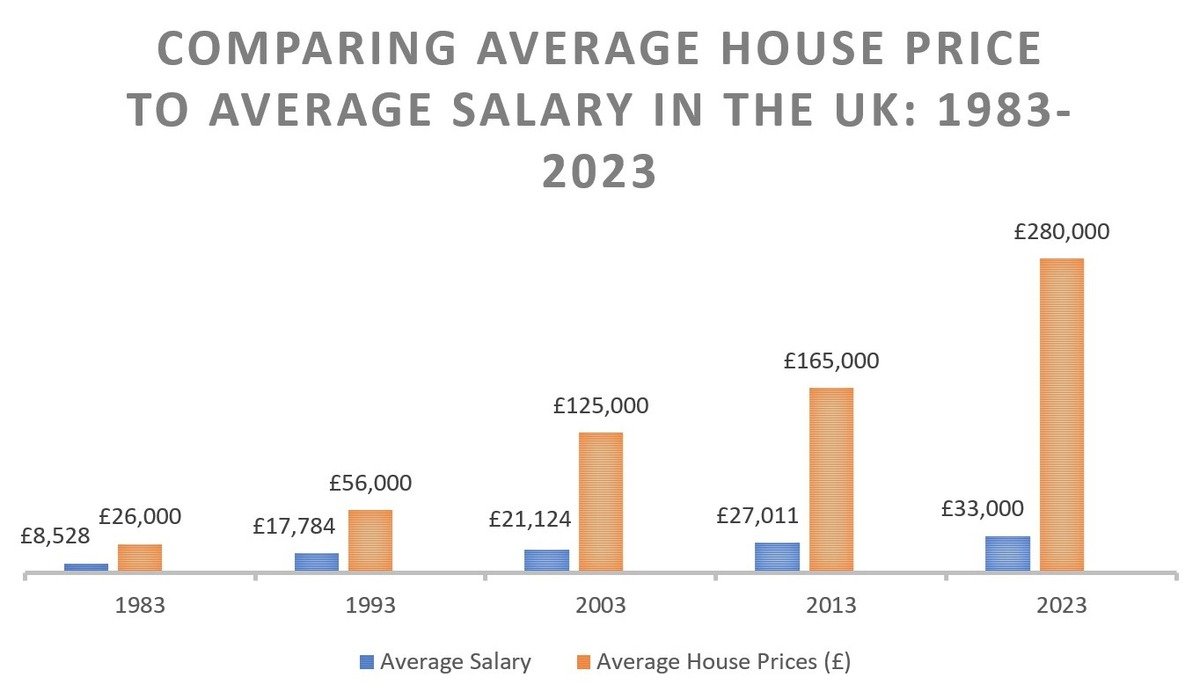 Although much of the blame has been put on problems in supply and that not enough houses have been built, the availability of credit has also played a major role.
After the 'Big Bang' of financial services deregulation in the late 1980s, the availability of credit for mortgages grew massively. This has both driven up prices by funding competition for housing, but perhaps more importantly resulted in a large group of homeowners for whom a fall in prices would leave them in negative equity (owing more than their house might sell for). While such a loss would only be realised when the house sold, it signals problems if a move is required for work, because of a change in financial circumstances, or wishing to downsize on retirement.
The UK's treatment of a house as an asset for investment driven by ever rising prices, has led to a situation not unlike a Ponzi scheme. This is to say, one of the key drivers to rising prices is new 'investors' seeking to become house-owners using borrowed money, who benefitting from prices rises, immediately then have an interest in prices rising further.
But, even without the easier availability of credit, it is also clear that we have a mismatch between the number of available houses and the demand for homes. This is usually presented as a problem of construction; too few houses are being built. This is often blamed on a planning system that puts too many obstacles in the way of house builders who as a result, have land-banks of undeveloped land stuck in the planning process.
This land banking is sometimes argued to be a major issue, with construction firms holding sites back from development to push up prices; a claim disputed by the housebuilders. Unfortunately, whatever the relative truth or otherwise of the land banking issue, the focus on house building has obscured some other important social changes that have impacted on the effective supply of homes.
Shortage of housing
A key set of shifts involves the character and composition of households.
Between the UK Census of 2011 and 2021, there was a 6.6% increase in the numbers of families and a similar rise in the number of households. There was also an 8.3% rise in the number of people living alone, while the number of adult children (20-34 years old) living at home has risen from 24% of the cohort to 28%. This has changed both the demand for homes (more smaller homes for single person households), while the opportunity to 'downsize' is delayed for families with adult children living at home.
When migration for work and the needs of an aging population are added, the link between demographic change and how housing is managed in the UK becomes clear. The existing housing stock was built with a different society in mind.
These problems are then compounded by the way we use our housing stock. Figures seen by The Guardian (but as yet unpublished) suggest that around 1.5% of all residential units in England are actually empty and data from the charity Crisis shows that over the last six years, the number of empty properties has increased by 24%.
Action On Empty Homes argues this is an underestimate – due to problems in recognising when residences are vacant, the number of empty homes is more likely to be around 1 million. This estimate includes 250,000 homes that have been empty for more than six months (the Government's preferred figure), with a further 200,000 covered by exemptions and not paying council tax. There are 257,000 properties identified as second-homes, with another 70,000 as permanent short-lets (paying business rates). By adding in homes that have been vacant for less than six months, you get a figure of around 1 million empty homes at any particular time.
As there are less than a million households regarded as needing secure housing, the obvious conclusion is there is a maldistribution of bedrooms.
One aspect of this distribution problem is aging households with more bedrooms than the occupants now need. These households, it has been suggested need to be 'encouraged' to downsize to free up this stock of surplus rooms for occupancy (ownership) by households of a more appropriate size. There are many reasons this is not happening, from the availability (and desirability) of homes for the aging to the desire to pass a valuable asset on to children.
In more recent years, this maldistribution has been compounded by the rise of the short-term holiday lets popularised by firms like AirB&B. Rural communities in areas popular for UK holidays are experiencing a lack of affordable housing for local families, as houses have instead been bought as investments to service the short-term holiday let demand.
These distortions in the market for housing would have less serious implications if there was a well-developed and maintained housing 'safety net', which brings us to the last major and perhaps most important element of the housing crisis.
The crisis in social housing
The UK's social housing stock has been in decline for decades. Since 1991, 24,000 social housing residential units have been lost a year, pushing many social renters into the private sector. In 2022, 29,000 social housing units were sold or demolished, and less than 7,000 were built to replace them. And while the 'Right to Buy' has depleted Council housing stock and tough financial limits have made building new council housing difficult, the reliance on house builders to provide affordable housing as part of new developments has been constrained by the relative low level of building overall.
This has left the UK with too little social housing and no hope that Housing Associations with their own financial restraints can make up the shortfall. Renters are pushed into unsuitable and overcrowded accommodation, or in extreme cases, are living in Council-funded temporary accommodation when no social housing is available. This has led Shelter to call for 90,000 social housing units to be built every year to make up this shortfall of appropriate and secure accommodation.
The problem for any government is that action on one or other of these issues produces losers as well as winners. The housing crisis requires long-term concerted policy attention to develop a solution that addresses all (or at least most) of these complex connected issues. It also needs compelling political leadership to craft a country-wide housing policy and find acceptable ways to ameliorate the impact on the losers from any major shift in how we manage housing in the UK.
To state the problem as requiring a long-term vision and commitment, alongside the need for engaged political leadership, is to immediately indicate why the UK's housing crisis remains unsolved! Building more houses may be part of the answer, but making sure these are the right homes is the key.
Without a major and sustained (re)commitment to social housing, no solution will really start to address the UK's housing crisis.
---