A schoolgirl, a nun and an army officer walk into an audition. It could be the start of a stand-up's joke, but the characters here walk into something much more amusing, heart-warming and uplifting in a production strong on nostalgia and brilliant musicianship.
The Bombshells are "the most glamorous band in all the land", heading to Hull – sorry, 'Ull – for a show that will be broadcast live by the BBC to raise the morale of a war-weary nation.
Unfortunately, they're so glamorous that every time they play at a military base, they lose a player or two to the arms of a GI. Now with their new recruits, along with drummer Patrick (Rory Gradon), the only boy in the girl band, they're setting off for an adventure that an air raid or two isn't going to halt. "The all-clear hasn't gone yet," bandleader Betty (Georgina Field) is warned. Don't worry, she scoffs, I'll keep my coat buttoned up.
The show must go on
She's hardcore and hardened as the rest of the band try to be, in a world that our generation can't know or comprehend. Did you spot the gas-mask cases slung over each shoulder?
The show really did go on during the war, musicians played, people sang, and to those who likened the pandemic lockdown to wartime, I've heard the retort: "At least they could go out and get drunk with an American airman." But they're not so hard that they can't reduce an audience to tears with their melodies and jazz: "If you make the buggers cry, they think they've had their moneysworth."
It's the triple-threat excellence that raises this show to five star status: the wonderful script by the late, great Alan Plater, terrific performances of eight actors who are all immensely accomplished musicians, and the perfect staging as the usually traditional Keswick theatre is transformed into the round with intensely dramatic effect. Notably when there's an unexploded bomb at the centre of the stage, and it's coolly defused by upper-class Miranda (Stacey Ghent) with a hairclip. 
There's delightfully touching interaction between the two innocents of the band, schoolgirl Liz (Lauren Chinery) and naive nun Lily (Gleanne Purcell-Brown), while cynical Grace (Alice McKenna) and Vera (Sarah Groarke) share tales of drunken nights in an attempt to overcome their loss and grief. At the piano sits wry Geordie May (Verity Bajoria), ready to give the note to each of the musicians. 
Virtuoso sounds
And wow, when they play! The first act gives a strong hint of individual talents, on sax, clarinet, double bass, trumpet and more, but in the second half we're transported to the music hall in Hull ("where even the pork pies smell of fish") for the band's live broadcast performance. We would happily spend a night in a smoky jazz bar listening to their virtuoso sounds and harmonies. "Music, it's the only clean thing left in this dirty world." As then, so it remains.
Plater, prolific writer of comedy and drama for stage, film and television, was the master of many trades. Who knew he wrote 18 episodes of the BBC's pioneering police series Z Cars and 30 episodes for its sequel, Softly Softly? But he excels with gentle humour and nostalgia, even throwing in one of his favourite cliches. Liz is in the sixth form at what she calls San Quentin High, and Plater afficionados might recall that was the moniker for the Leeds high school where Mr Chaplin and Miss Swinburne taught in the glorious 1980s TV series, The Beiderbecke Affair.
Wartime greatest hits
This play grew out of a 2000 TV film, the Last of the Blonde Bombshells with a script by Plater, starring Judi Dench, Billie Whitelaw, Cleo Laine, Joan Sims and June Whitfield. And he was convinced that between the years 1939-45, composers and musicians really hit their stride.
"Researching Blonde Bombshells," he once wrote, "I was overwhelmed by the volume of compilation albums broadly headed Great Music of the Second World War. Where, aside from protest songs, are the greatest hits from Korea, Vietnam or Iraq? The silence tells its own story." Was this, he wondered, because World War ll was "a reasonably honourable conflict between Good and Evil, compared with the shabbier specimens of more recent times, and has inspired an infinite range of defining drama, from the sublime Dad's Army to Steve McQueen jumping over a fence on a motor-bike."
If there's a modern parable here behind the action and the sharp characterisation, it's that musical harmonising can bring together individuals who wouldn't otherwise gel. And there's the moral tale of draft-dodger Patrick heading to sign up after the concert with the band, inspired by the women's resilience.
Directed by Zoe Waterman, it's another joint production with Bolton's Octagon Theatre, and Scarborough's Stephen Joseph Theatre, a real northern powerhouse of the stage. The Blonde Bombshells of 1943 runs at Keswick until the end of July. Booking details here.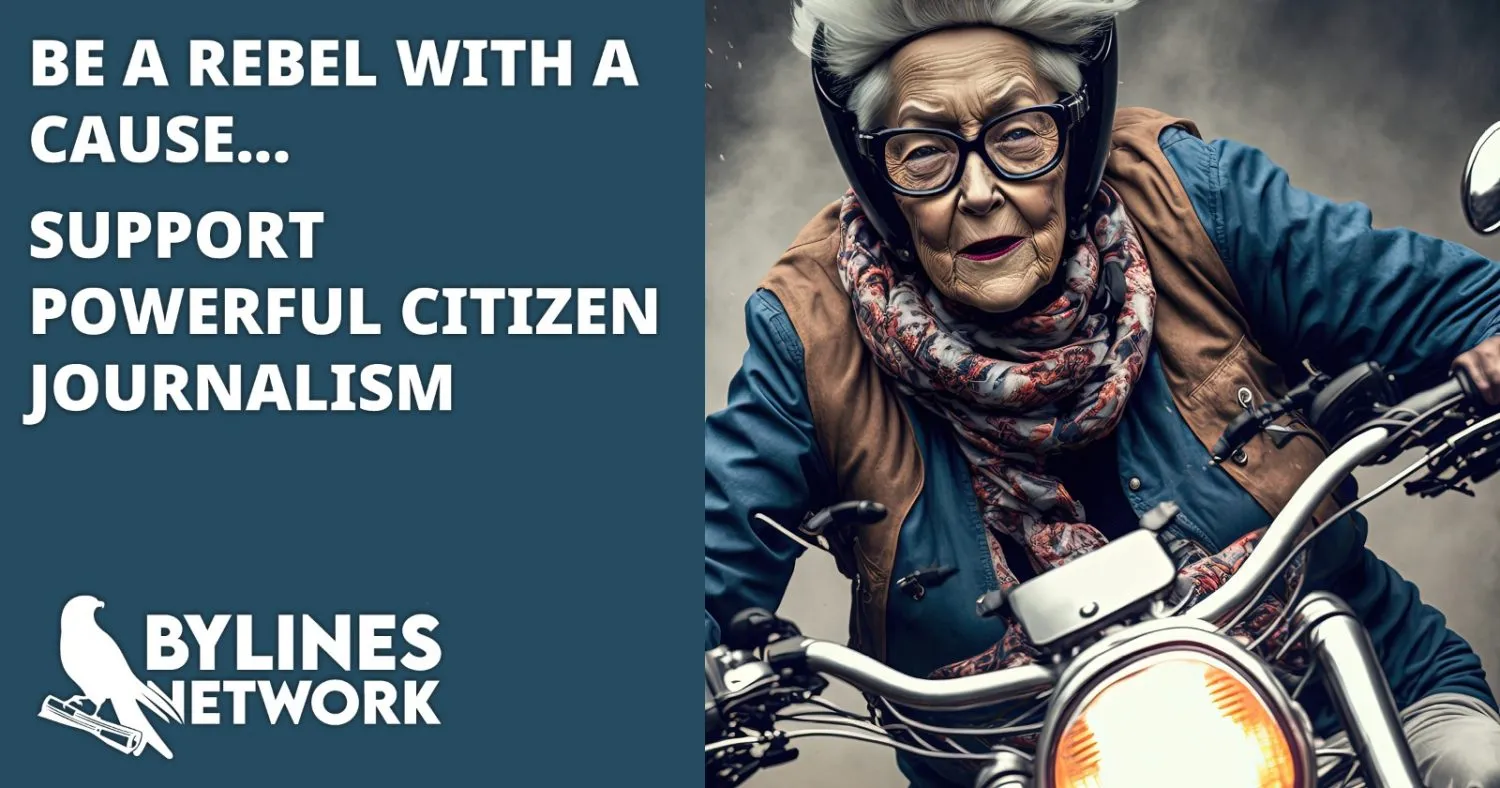 CLICK HERE TO SUPPORT THE BYLINES NETWORK CROWDFUNDER!