Whilst researching the Dambuster attack on the Eder Dam I came across an interesting snippet of history. It was told to me by my sister's friend Geoff Crowther who was in the RAF in the early 50s.
In 1952 Geoff was based in Germany at RAF Wahn which is now the modern day Cologne Bonn International Airport. He was an aircraft engineer and maintained aircraft batteries for 68 Squadron which operated Gloster Meteor NF11 night fighters. At that time, it was forbidden to drink the local milk as it caused severe illness (probably brucellosis). Everyone had to use powdered milk with everything, which was awful.
Tea with powdered milk
Also based at RAF Wahn was the personal transport of Sir Ivone Kirkpatrick the British high commissioner in West Germany. It was a beautiful twin-engined De Havilland Devon C.2 light transport aeroplane.
Sir Ivone Kirkpatrick was a temperamental and outspoken British career diplomat but Britain's leading expert on German affairs during the 1930s. He was based in Berlin in 1933 as first secretary to the British embassy and believed that no business could be done with the Nazi leaders. He held several senior government positions during the war, and when Rudolf Hess parachuted into Britain in 1941, it was Kirkpatrick who was sent to Scotland to identify and interview him.
In 1949, he became head of the German political division of the Foreign Office, a department that was as big as all the rest of the Foreign Office put together. In 1950 he became the high commissioner in West Germany and set about in his own direct manner to resolve the problems between Britain and Germany that had so long been a source of difficulty in Europe.
Sir Ivone however, was not prepared to drink his tea with powdered milk. Fresh pasteurised milk was available in the north of Germany. So, he had a 400km round trip milk run from RAF Wahn to RAF Bückeburg (between Osnabrück and Hannover) complete with a milkman's wireframed four-pint milk bottle carrier using his Devon aircraft, twice a week.
Milk run over Eder Dam
Normally the flight would just involve Kirkpatrick's personal pilot. On one occasion Geoff was talking to the pilot who invited him along for a jolly, apparently he was always happy for the company. Geoff recalls the pilot was Squadron Leader Wintle, an ex-WW2 Lancaster bomber pilot who had a significant medal ribbon bar on his chest.
On the 200km flight north-east from Wahn to Bückeburg, the topic of the Dambusters raid came up. The pilot asked Geoff if he would like to see one of the dams from the air. Who would turn down that opportunity? Geoff wasn't about to.
On arrival at Bückeburg the pilot retired for lunch in the officer's mess whilst Geoff had to make do with the NAAFI. The pilot returned a few hours later complete with the four pints of fresh milk. As they entered the Devon, Geoff was entrusted with the precious cargo and told in no uncertain terms "Look after the milk. Don't spill a drop".
Geoff can't remember why, but the Eder Dam was their destination. The flight from Bückeburg took them a dog leg 120km due south until they reached the very western edge of the Eder Reservoir. The pilot descended low, very low as Geoff recalls and they flew eastwards banking sharply to port and starboard as the Eder valley snaked along with no view of the dam in sight. Finally, a steep turn to starboard around a spit of land called the Hammerbergspitze jutting out just a mile before the dam. It had caused so many problems to the Dambuster pilots Shannon, Maudslay, and Knight nine years previously.
Dambusters
Geoff says they were incredibly low, probably 100 to 200 feet, but even with an experienced competent pilot they were nowhere near as low as the Dambuster pilots had been. They had made their approach, not along the Eder Reservoir from the west but, down the valley at the side of Waldeck Castle (which can be seen in the picture below) making a steep turn to port over the Hammerbergspitze before getting down to an incredible 60 feet.
Geoff's flight took them low over the Eder Dam between the two towers before pulling around for a view along the dam. Geoff recalls it having been fully repaired but the signs of the damage sustained in the early morning of 17 May 1943 were clearly visible.
The final leg of the trip took them west-south-west back to Wahn.
What a jolly.
De Havilland Devon's in RAF service were reliable and much-loved workhorses. They entered service in 1948 and finally retired in 1984 where I witnessed them auctioned off at RAF Northolt in London.
Several Devons still exist including Devon C.2 VP952 on display at RAF Cosford.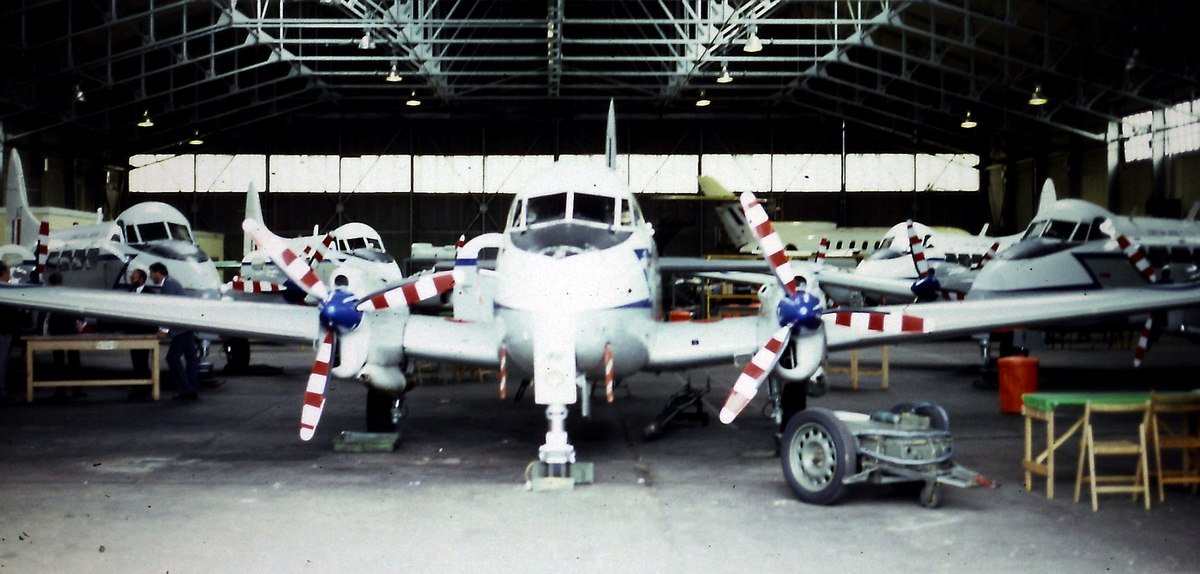 ---