With not one, but two new restaurants opening at the new Pioneer Place development in Burnley, things seem to be looking up for the town.
Having not visited for a number of years, it was pleasing to see that the town centre is not as dilapidated as some other places in the North West, I am not saying it is completely fine but at least it does not have as many mobile phone shops, nail bars and hairdressers or closed down stores as some of the neighbouring towns.
The Icaro Lounge
The Icaro Lounge opened in the summer – the tables outside the restaurant attest to this, though on a chilly autumnal day it all seemed like someone with wishful thinking had put them there – you do not get many days that are warm enough to eat outside at this time of the year.
The lounge dedicated its name to Burnley-born composer John Pickard who composed The Flight of Icarus, and Icaro is the Italian word for Icarus.
The restaurant is part of the Lounges chain, though with each one being given a different name you would not know this – only the quirky décor inside each one gives the game away that they are in fact all related to each other.
I had heard that service was relatively slow and to expect a long wait for our food to arrive. Fortunately, this was not the case on our visit; the manager was even mucking in, so to speak – handing out food from the kitchen and generally being the perfect host.
The menu
The menu is an extensive one, I was surprised that they offered so many options, including a gluten free and vegan menu. Why anyone would want to order via the app escaped me, as I prefer to order at the bar and experience some human contact.
Within five minutes of ordering, a round of garlic bread with cheese (£3.10) arrived on the table. Whilst nothing too special, the dish whetted our appetite for our mains.
Served all day is the Lounge breakfast (£9.50) which would surely satisfy any hungry appetite. Stacked with smoked back bacon, Cumberland sausage, two hash browns, baked beans, roasted tomato, button mushrooms, fried egg and white or brown toast this was a guilty pleasure which my dining partner enjoyed immensely – cooked to perfection and oozing with taste, this dish alone would be good enough reason to visit the new Icaro Lounge.
I decided to sample the Lounge bacon burger (£13.25) – a succulent 6oz dry aged British beef patty, smoked streaky bacon, American cheese, lettuce, tomato, red onion, gherkins and burger sauce. I was not disappointed as the meal was served hot, freshly cooked and tasted excellent.
As well as serving burgers, salads and flatbreads, the tapas seemed very popular with other diners. £4.55 buys you for one plate or £11.95 for a tapas board with three options. Add to this the extensive cocktail list, and you have an opportunity to sample something different than you might normally receive in Burnley.
I finished off with the chocolate salted caramel sundae (£6.95) – a moorish temptation that rounded off a good meal at this exciting new café/bar.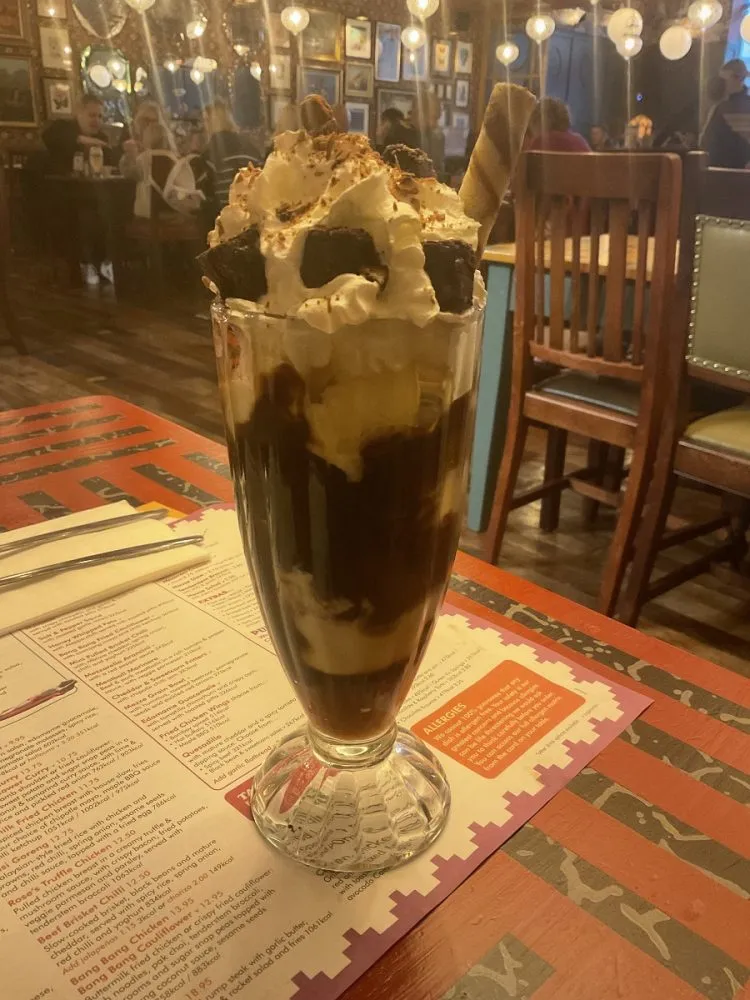 The Icaro Lounge offers a daily deal on weekdays for lunchtime and in the evenings, diners can take advantage of special deals such as a free drink or pudding on Mondays when buying specific dishes, three tapas dishes and a glass of wine for just under £12 every Tuesday, or any two cocktails for £11.75 every day except Friday and Saturday.
A warm atmosphere prevailed throughout our visit to this busy and much needed stylish addition to the Burnley dining scene. I would definitely return again.
---