Kate Rawles went for a bike ride. She mounted her home-built, bamboo-framed bicycle, Woody, in Colombia and set off to pedal more than 8,000 miles down the spine of the Andes mountains through South America, arriving at Cape Horn 13 months later.
Hers is the sort of adventure that leaves you saddle-sore just thinking about it. It was a journey bursting with excitement, fraught with danger, and above all, ridden with a purpose – for Kate is an eco-warrior, and "though she be but little, she is fierce" in her passion to protect our planet.
The Life Cycle – an adventure
Now Kate – a former university lecturer who lives in Ulverston – has written a book about her journey. The Life Cycle has twin aims: to tell a cracking good travel story, and to leave the reader with an enhanced understanding of biodiversity, the astonishing variety of life on Earth, and why its future concerns us all. It joins the genre of travel writing, exploring issues, the lands, and people, alongside adventures on the road.
And as such, it is all the more powerful in its message; Kate lives what she believes in and knows that to fully appreciate the problems and understand potential solutions, it's necessary to experience them. She had already done a mammoth trek across North America's continental Great Divide, a journey aimed at highlighting climate change. She called that one the 'Carbon Cycle'.
This time, the goal was to harness the power of adventure in some of the world's most extraordinary landscapes, in order to raise awareness and inspire positive action on biodiversity loss – one of the most urgent and important issues of our time. "I am passionate about the need for urgent, effective and suitably radical responses to our multiple environmental challenges, including a thorough overhaul of our values and worldviews," she says. She won't fly, on principle, so her starting journey to South America was done by cargo boat – an adventure in itself.
LR: Cordillera Blanca Peru, Atacama Desert in Flower, Bolivia salt flats at sundown – photos by Kate Rawles, used with permission
The book launch
Kate's book was launched at the Lake District National Park's visitor centre at Brockhole near Windermere on Peruvian Independence Day, so we were served pisco sour cocktails. Introducing her was Mike Berners Lee, researcher and writer on carbon footprinting. He is a professor and fellow of the Institute for Social Futures at Lancaster University, director and principal consultant of Small World Consulting, and author of There is no Planet B.
Woody was there too, the bike showing signs of wear and tear, the saddle patched with tape, but still functioning. It was made from super-tough golden bamboo canes cut from a mature clump on a hillside outside the Rainforest Biome at the Eden Project in Cornwall and Kate put her bike together at the Bamboo Bicycle Club in London before christening it 'Woody'.
Looking closely at the frame, there – just below one of the handlebars – is the head of a tiny cuddly toy peeping out. This is Carlos, a key-ring size cotton-top tamarin monkey given to Kate when she visited a project set up to protect this endangered species, while also tackling plastic waste alongside forest protection and regeneration. Cute, like the turtles she'd met elsewhere being cared for by school-children.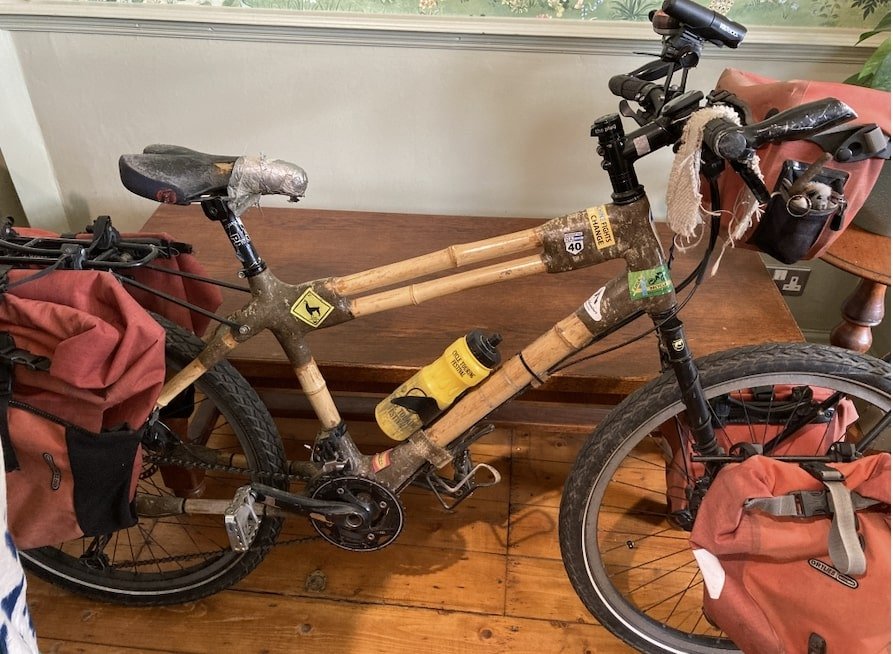 "Once seen, almost everyone falls in love with them and wants to see them protected. But that didn't mean the monkeys were saved at the expense of other animals… as with the turtles, once you cared about the monkeys, you had to care about their habitat. Restore and protect the habitat and you've gone a good way towards protecting everything else that lives there."
Lessons such as these she was learning daily, while riding sometimes ten or more hours at a time and often wild-camping wherever she ended up at nightfall. "I've never pushed so hard physically in my life, but I think it's good to reach your limits occasionally – and then keep going." Those limits were tested by the weather, the terrain, and the often dangerous political shadows in which Kate found herself; those fighting to protect the planet were sometimes in life-threatening situations.
And yet, what shines out, page after page, is her irrepressible joy of life, her love of people she met along the way, and the utter exhilaration of her adventure:
"I loved the absence of constraints and obligations. I loved the sense of purpose that simply cycling gives. And I especially loved the wider purpose that my journey was motivated by; the notion, even if delusional, that my travels had a point to them beyond that of fulfilling my own wish to be on the road. I was invigorated by the whole thing, properly alive."
About Kate
Kate is our conscience, too, and challenges us regularly to think about our own lives, and how much "stuff" we seem to need to lead a good existence. She was troubled by the amount she was carrying, but could YOU live for over a year with just this? "Four panniers, the front box, an armful of waterpoof bags, with my sleeping bag, tent and other bulkier things that I bungee on top of the pannier rack. It weighs too much and is a burden – yet I feel I need it all. Ah, the parallels with wider life."
Kate grew up in Scotland, bar a few years in Penzance, before moving to Cumbria where she lives with her partner, Chris. She's a keen sea kayaker – preferably around remote, wildlife-rich islands – hill walker and bookworm, as well as a cyclist, and yet, she told us at the book launch, she had never been a sporty child.
She's a Fellow of the Royal Geographical Society, a member of The Adventure Syndicate, an Ibex Earth biodiversity ambassador, sits on the Food Ethics Council, and holds sea kayaking and mountain leader qualifications. She has a PhD in environmental philosophy from Glasgow University, a Masters in applied ethics from Colorado State University, and an undergraduate degree in philosophy from Aberdeen University.
She now works freelance, helping to deliver a massive wake-up call, raising awareness and inspiring effective, intelligent action on some of our most urgent environmental challenges. She's a powerful and popular public speaker. She set up and runs outdoor philosophy courses, using the power of wild places to support personal and professional positive action on environmental sustainability.
And maybe Kate's book can inspire us all to join her crusade, to explore the all-important questions about values and worldviews, and the relationship between humans and the natural world. Though not necessarily on two wheels.
CLICK HERE TO SUPPORT THE BYLINES NETWORK CROWDFUNDER!