One easy and lazy slur frequently aimed at Extinction Rebellion (XR), regarding their third "demand" that climate and environmental action should be led by a Citizens' Assembly on Climate and Ecological Justice, is that they are trying to undermine democracy.
Take Benedict Spence in the perennially spittle-flecked Telegraph who asserted that XR intends that citizens' assemblies "would replace the government", a move he suggests is "every bit as destructive to the human race as the changing climate."
Or Tom Slater in the Spectator who cautions that "this call for the people to have their say isn't all it seems. Just as XR demands we all 'tell the truth' about climate, […] its proposed citizens' assemblies aren't democratic in the slightest."
Former Tory leadership contender Rory Stewart has also received abuse in the Daily Telegraph for his support of citizens' assemblies. Revealing the anti-intellectual mindset of the current ruling class, Madeline Grant of the Daily Telegraph sneered, "A 'citizens' assembly' […] is an idea so stupid only a clever person could dream it up."
Citizens' assemblies: democracy in action
In reality, citizens' assemblies are the foundation stones of democracy itself, the ancient Greek etymology of which combines the elements dêmos (people) and krátos (power): literally 'people power'.
In ancient Athens, citizens would come together to make decisions on major issues such as war and public spending. The Citizens' Assembly of the French Revolution was established in 1789 to draft a new constitution. In the 20th Century, citizens' assemblies have been employed in countries such as Iceland and Canada to address electoral reform and constitutional change. The British Columbia Citizens' Assembly on Electoral Reform – which was convened in 2004 – examined alternative electoral arrangements for the province.
And more recently, in 2016, Ireland established a citizen assembly to consider a range of issues, including abortion rights. The assembly was composed of 99 randomly selected citizens (the Athenian process known as 'sortition') and was tasked with making recommendations to the Irish Government which in the case of abortion law were implemented.
Public dialogue: a familiar concept in the UK as well
Even in the UK, the Department for Business, Energy and Industrial Strategy championed the discursive process with the assurance that the Government's aim was "to ensure that the public and the broad science community are able to see that a wide range of views and perspectives have been heard in the open, and been taken account of by policy makers as decisions relating to science and technology innovation are taken."
In 2020, the Department for Environment, Food and Rural Affairs tasked Henry Dimbleby to research a national food strategy and he subsequently held dialogues up and down the country, looking particularly at the environmental impacts of production and consumption.
So, there is nothing new in citizen assemblies. They have been used broadly across the political spectrum to promote participatory democracy, enhance public engagement, and, with the involvement of expert 'witnesses', address complex policy challenges, particularly where governments have the self-awareness that they lack the acumen to make informed policy decisions.
A citizens' 'jury'
And here citizens' assemblies might be compared to juries whose decisions are binding and evidence based.
Indeed, the courtrooms of the British justice system can be seen as a microcosm of all that is right, and all that is wrong with our polity. Commendably, citizens' assemblies, as with juries, are mustered from a broad demographic sample through the process of sortition, hear expert testimony, deliberate, and come to conclusions without interference of vested interests.
However, Britain counts itself a member of a minority of nations in basing both our law and politics on an adversarial (rather than inquisitorial) system, a doctrine that is bound to negate compromise, forgo nuance, frame all issues through a binary lens and result in politicians fomenting a collateral culture war. As Graebner and Wengrow note in their book The Dawn of Everything, now "democracy, as we have come to know it is effectively a game of winners and losers played out among larger-than-life individuals with the rest of us reduced largely to onlookers."
Just as lawyers have to contend with the differing levels of education and experience of jury members, political thinkers through time have worried about uninformed political decision making.
The success of Athenian democracy, according to 19th Century Utilitarians Thomas Macauley and George Grote, lay "in the high level of cultivation that citizens enjoyed". They called for "improvements in the educational system of Britain that would make possible a shared civic consciousness parallel to that achieved by the ancient Athenians". It is noteworthy that, far from improving learning in the field, at the behest of Nigel Lawson Michael Gove when he was Education Secretary, attempted to remove the study of climate change from the National Curriculum.
But the process of participating in decision making can itself raise levels of awareness and understanding. In jurisdictions that have engaged in deliberative dialogue, schooled with objective evidence, it is clear that participants developed shared, better informed opinions, clearer definitions of counter arguments and a sense of public priorities.
Public engagement "really matters"
The UK's leading public participation charity Involve, oversaw the UK-wide citizen assembly on net zero, Climate Assembly UK, which was commissioned by six parliamentary committees. In their written evidence, they asked stakeholders "Has Climate Assembly UK (both its process and recommendations) been helpful to your work (or the work of your organisation), and if so, how?". The response was extremely positive.
Mike Thomson, the Government's Committee for Climate Change (CCC)'s director of analysis, responded: "We've taken their advice and we've constructed our scenarios to align to it so you'll see on diet change, on flying, on driving the sorts of trends. [It] really matters for the way that we design policy. We need to talk to people about how they want us to go about policy development, policy implementation. […] We need to build those recommendations into policy design in the same way that the CCC has built them into our scenarios."
The Sixth Carbon Budget report also stated that "an effective net zero strategy will need to include a public engagement strategy that should be built on the findings of the UK Climate Assembly", adding that, to be successful, public engagement on a Net Zero strategy should involve people in decision-making, rather than "just persuading them to change".
Chief Executive of the CCC Chris Stark, warmly welcomed the Climate Assembly UK report. UK climate science has long benefited from the work of experts in the field, he said, "… but we have never had evidence like this before. This is the first time that we can say we really understand the views of UK citizens." And with the structured approach of a citizens' assembly, those views will themselves have been informed by a range of experts.
The will of [some of] the people [some of the time]
In the wake of the Brexit referendum, we were constantly told by government ministers that enacting the "the will of the people" was paramount. This has led to the question as to whether the UK's political regime is founded on the principle of parliamentary sovereignty or the principle of popular sovereignty (whether or not deliberative).
When ministers insist that the Government cannot overrule "the will of the people", how is it then, that former director of Policy Exchange and conservative MP Anthony Browne, writing for the Spectator, can seriously suggest that, through citizens' assemblies, XR threatens "an environmental dictatorship"? In the article he condescendingly declares: "we already have a citizens' assembly to pass environmental laws, it is called Parliament. It is disturbing that Extinction Rebellion not only openly break [sic] the law, but they want to grab power and undermine democracy."
Browne's diatribe is disingenuous. Rather than an undermining of democracy, citizens' assemblies are a way to refine and improve upon existing forms of democratic decision-making: representative democracy improved with a layer of participatory and deliberative democracy. They are used around the world as a way to involve ordinary people in decision-making processes and to provide a popular democratic stratum to traditional political institutions.
Unfortunately, in this country a corrupted representative democracy has held the upper hand and can, unhindered, have its cake and eat it when it comes to which 'will' and which 'people' are to be heard.
Real underminers of democracy? The Conservative Party
While the result of the 'evidence-free' Brexit referendum was regarded as cast in stone, in the end the citizen assembly on climate change was dismissed. Although the Committee on Climate Change appreciated the input of the Net Zero assembly and included findings in its scenarios, the government did not convert their recommendations into policy.
Neither has BEIS been true to its word in ensuring "that policy makers and experts promoting and/or participating in the dialogue process are competent in their own areas of specialisation."
With the attempt to remove "climate change" from the National Curriculum we glimpse how the government views Macauley and Grote's hopes for an educated electorate.
And, of course, inevitably, Henry Dimbleby's monumental Food Strategy report was summarily rejected by the government as being too restrictive to a free market.
With the Government attempting to override habeas corpus and to emasculate the process of judicial review; where they drip-feed the "enemies of the people" narrative through their client press, and where the requirements of the unelected members of the Tufton St cabal supersede the demands of the electorate, it would seem that the real underminers of our long held democratic norms are the Conservative Party themselves.
---
More information about citizens' assemblies from Extinction Rebellion's Citizens' Assembly Working Group.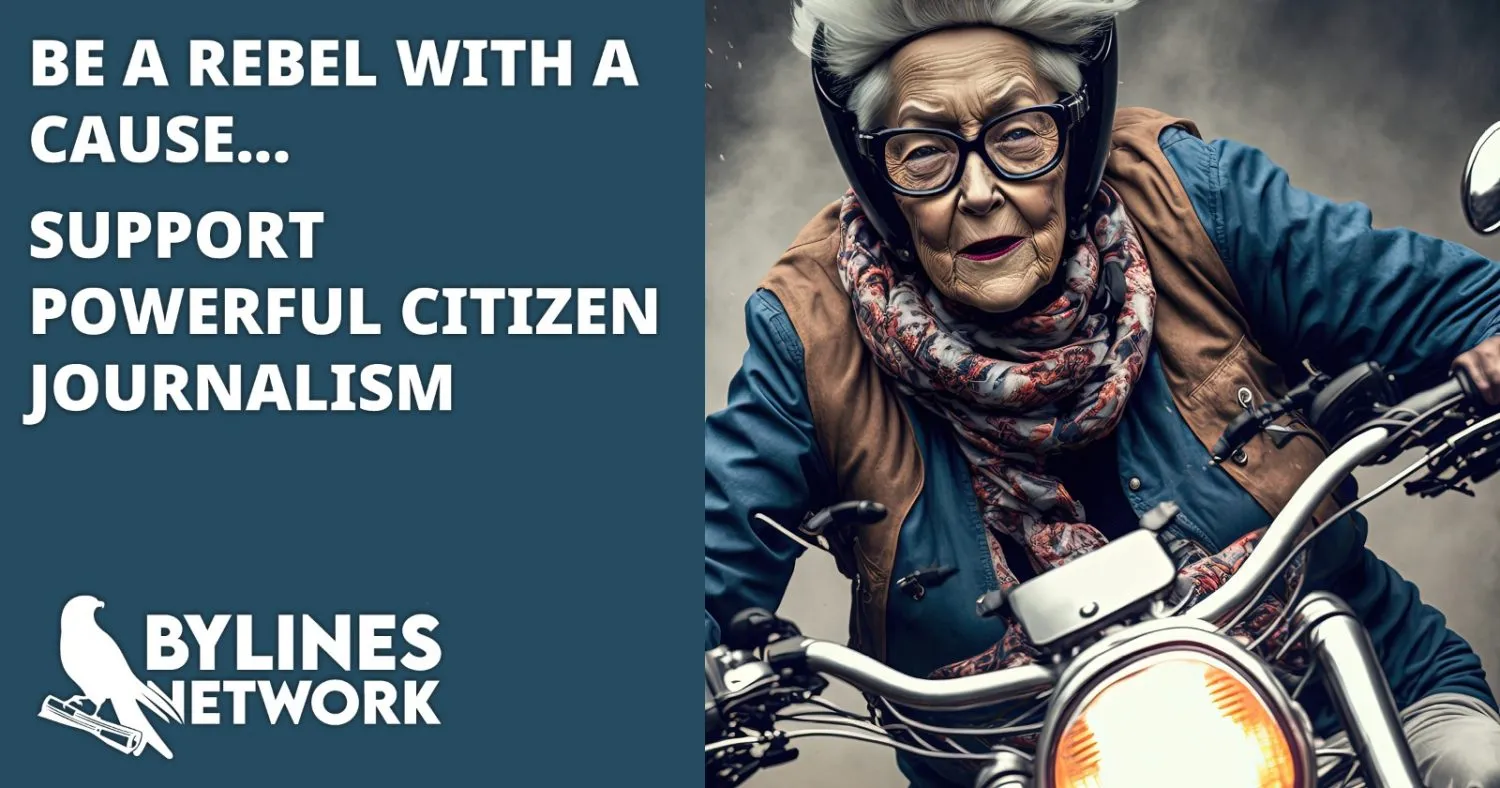 CLICK HERE TO SUPPORT THE BYLINES NETWORK CROWDFUNDER!